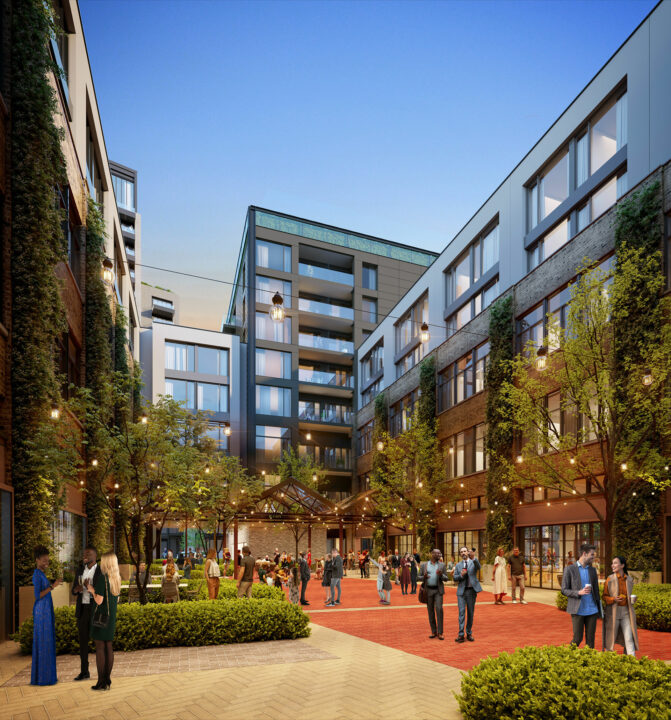 The combined area of these three sites, which make up the proposed masterplan, is approximately 27 acres (10.8 ha) in size, roughly 9 times the size of Croke Park.  
The '15-minute city' is an urban planning concept that focusses on the liveability of a city and calls for a return to a more local way of life. As a result of the pandemic, surveys indicate that in the future approximately 40% of people wish to work from home approximately 40% of the time. On this basis, the benefits of the 15-minute city will be in more in demand for a quality living experience. 
The 15 Minute City is about designing walkable communities in which people can live and access most of their daily needs within 15 minutes using public transport, walking or cycling.  To achieve this requires sufficient density to support businesses and a diversity of housing options. It requires safe cycle routes, reliable public transport, local health facilities, parks, shops, and other local social infrastructure.
The four key principles of the 15 minute city are:
Proximity – where amenities and services must be close by
Diversity – where land uses must be mixed to provide a wide variety of urban amenities nearby.
Density - there must be enough people to support a diversity of businesses in a compact land area. The new Dublin City Development plan has suggested around 60 – 100 units per hectare based on international comparisons*
Immediacy – these neighbourhoods must be so common that they are available and affordable to anyone who wants to live in one.
Player Wills, Bailey Gibson and Donore Project (a working title for the LDA & DCC Residential Project on the former St. Teresa's Gardens) sites have location advantages that support the 15-minute concept. It is close to high density employment centres including the Coombe Hospital and St. James's Hospital. 8,000 jobs are available within a 15-minute walk time and 80,000 jobs when using a bicycle or public transport. It benefits from excellent public transport connectivity with Dublin Bus stops adjacent to the site and the Luas Fatima stop within a 12-minute walk.
The wider Dublin 8 and Liberties area is undergoing significant regeneration and economic and social development. These include new homes and businesses of all types including new retail, tech businesses, hotels, brewing and distilling. 
The foundations of a 15-minute city already exists in this part of the City but further improvements are needed. The scale of the lands in SDRA 12 is an opportunity to build on what is already there and enhance the area further to achieve the proximity to enjoy a high quality living and work experience – conveniently and sustainably.
A diversity of non-residential uses is proposed across the three sites including;
Creches that will accommodate the needs of the scheme and the wider area
Shops scaled to accommodate local neighbourhood retail
Cafes & restaurants
Co-working space
A community hub with community arts & studio space
A community resource building, a new parish hall and a new presbytery
A public park similar in size to Weaver Park
A playground next to the school
A full size Municipal Playing pitch
There is also a wide variety of amenities included that will be dedicated to the future residents including gyms, lounges, co-working space.
Guided by a heritage consultant, David Slattery Conservation Architects, the new vision for the former Player Wills Factory building is to restore, repurpose and transform the existing, unused building into a cultural and entertainment hub for the community at the ground floor of the building. In addition, as part of the repurposing, it's proposed to add two extra floors set back from the existing front façade onto the South Circular Road. To the rear, at the north eastern corner, where a later extension to the factory is removed, a new 8 storey building with amenities is proposed. 
The new designs for the building will celebrate the industrial design and feel of the building.
Extending from the South Circular Road through to the new Players Park, the factory building straddles and connects both the new and existing communities. The landscape design features a "red carpet" paving the way of a new public route from the South Circular Road, through the Factory, to the new public park. 
Features of the reimagined Player Wills Factory building include:
852 sq.m. of ground floor area devoted entirely to community and cultural uses such as community arts & studio space – equivalent in size to the Project Arts Centre in Temple Bar.
The internal open-air courtyard will be used for many purposes including, for example, Christmas market stalls or evening events & performances, open for the enjoyment of the local community and wider Dublin 8 residents.
In total over 2,500 sqm of the building will be open to the community including a 500 sqm convenience shop and a café/restaurant/bar space where people can meet, socialise or work together.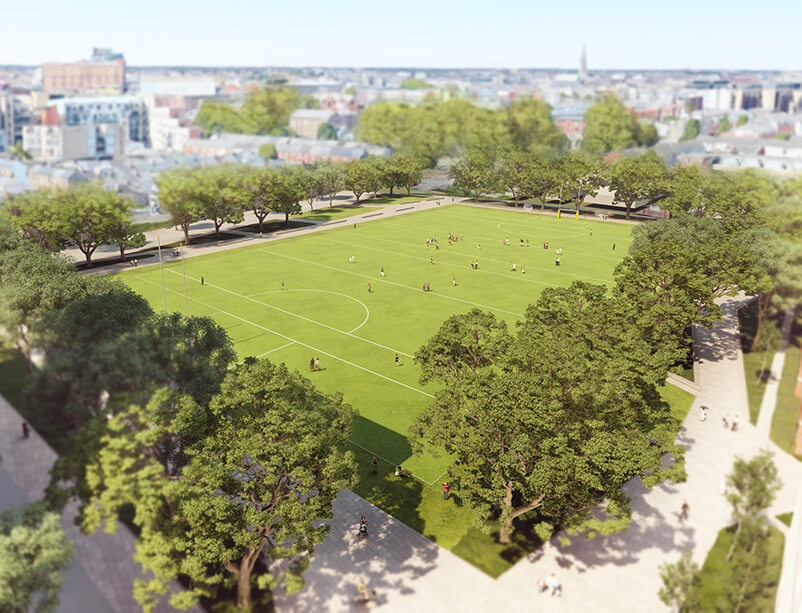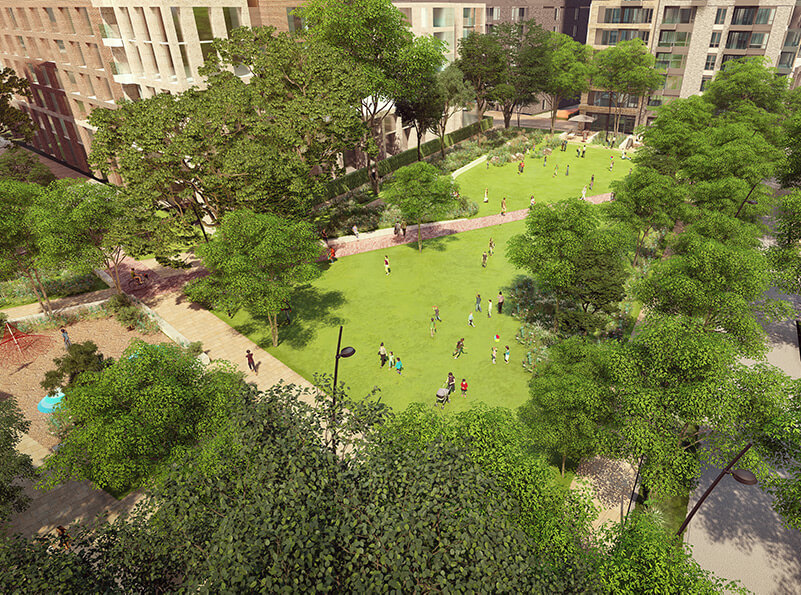 There has been several design studies to determine the parkland positioning and connectivity in order to ensure that the public open space can be enjoyed by the maximum amount of people. Two new public parks have been proposed that will contribute to the network of new parks envisaged under DCCs Liberties Greening Strategy and will support existing residents in the community as well as the new residents living in the proposed Bailey Gibson, Player Wills and Donore Project (a working title for the LDA & DCC Residential Project on the former St. Teresa's Gardens) sites. 
The public will have access to 3 playgrounds, a major public park, a smaller park beside St Catherine's National School and a municipal playing pitch.
Land has also been reserved on the Player Wills site for the future expansion of St Catherine's National School. 
There will be no restriction on public access to these facilities.
The largest park at the centre of the scheme is equivalent in size to Weaver Park on Cork street and more than twice the size of Oscars Square in The Tenters. This public park will be a large green open space for the wider community to enjoy and is in addition to numerous smaller parks and courtyards which will serve the new residents.
The park beside the proposed creche facility and St. Catherine's National School will be more play orientated and include active and engaging elements for children of all ages.
Land has been set aside beside St Catherine's National School which will be available to the school for temporary use until such time as the expansion secures planning permission under a separate application by the Department of Education.
A highlight and one of the most exciting features of the masterplan is the proposal for a municipal playing pitch on the north east corner of the site adjacent to Donore Avenue. It is proposed as a full size, all weather pitch available to local sporting clubs. There will also be a large playground beside the pitch.
The playing pitches are on DCC controlled land but will be open for public use under City Council management. 
A new cultural and entertainment hub for the community is proposed for the ground floor of the Player Wills factory building which will include community arts & studio space, a convenience shop and a café/restaurant/bar space where people can meet, socialise or
work together.
A new facility is proposed with changing rooms adjacent to the municipal playing pitch will also be delivered for use by existing community clubs. This will form part of the Phase Three planning application.
Across the Bailey Gibson and Player Wills project it is proposed that over 700 new trees will be planted.
Biodiversity and sustainability are important features on all Hines' developments. Biodiversity is supported in the planting of a variety of trees and shrubs to ensure an attractive landscape all year round. Planting will be introduced on many levels of the site to create an interesting, multi-level landscape across 7 acres or 27% of the masterplan area.
Shops, Cafes, creches and more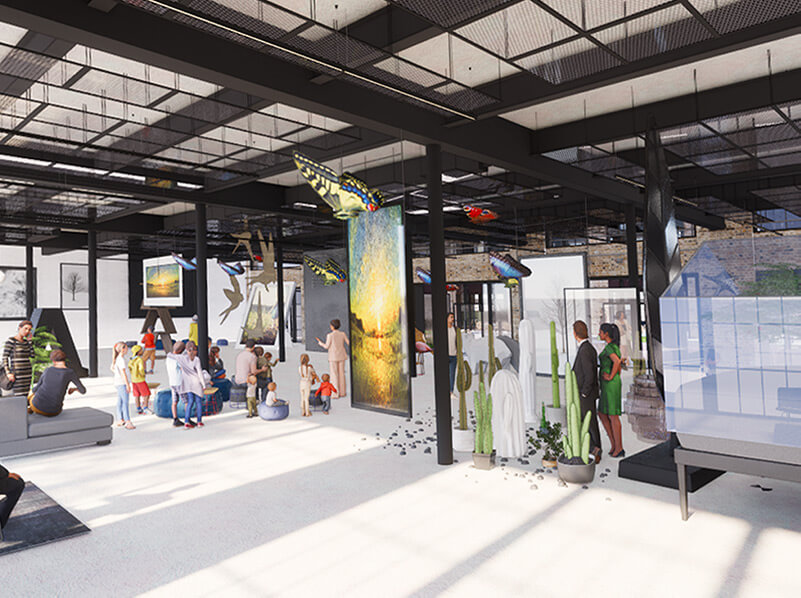 Yes, the proposals include a multitude of amenities and services for the benefit of local residents and the general public. 
Across the Bailey Gibson and Player Wills project there will be:
5 -6 retail or retail service units

 

2 creches,

 

3 cafes/restaurants

 

Additional services provided within the community hub including a sizable community and cultural/arts space which can be adapted for multiple uses.

 
There will also be further amenities on the Donore Project (a working title for the LDA & DCC Residential Project on the former St. Teresa's Gardens) site but these locations will be identified in a later application. Further amenities are provided in addition to these facilities for the residents living in the new homes.
The Masterplan was informed by a Social Infrastructure Audit that examined existing service provision locally. It identified that Cork Street is a local commercial and retail hub and this should not be undermined. The audit highlighted that there is a deficit in local childcare provision and floor space to accommodate neighbourhood scaled services e.g. local health facilities, shops, cafes and restaurants. This informed the amount and nature of non-residential uses included in each development proposal and aligns with the 15-minute city approach to urban planning.   
Access to community and cultural venues is a key component of the 15-minute city concept and the transformation of the former Player Wills factory building is arranged to support arts and cultural uses together with retail, a restaurant/café/bar and co-working.
A critical component of successful Built-to-Rent development is a generous provision of well-considered and high-quality amenity spaces for the benefit, comfort and convenience of their residents. The residents living within the new homes will have access to a number of amenities such as lounge areas, work spaces, gyms, function rooms for use as private dining and kitchen facilities and more. 
A full-time operations staff will be available to deal with day-to-day issues and ensure the quality of lifestyle that would be expected in a modern facility. 
Many of these facilities will be within the restored Player Wills building and will be just for the residents from the apartments. However, within the same building there will be a series of spaces open to the general public such as community arts & studio space, space for Christmas market stalls or evening events & performances in the Player Wills courtyard as well as a convenience shop and a café/restaurant/bar space where people can meet, socialise or work together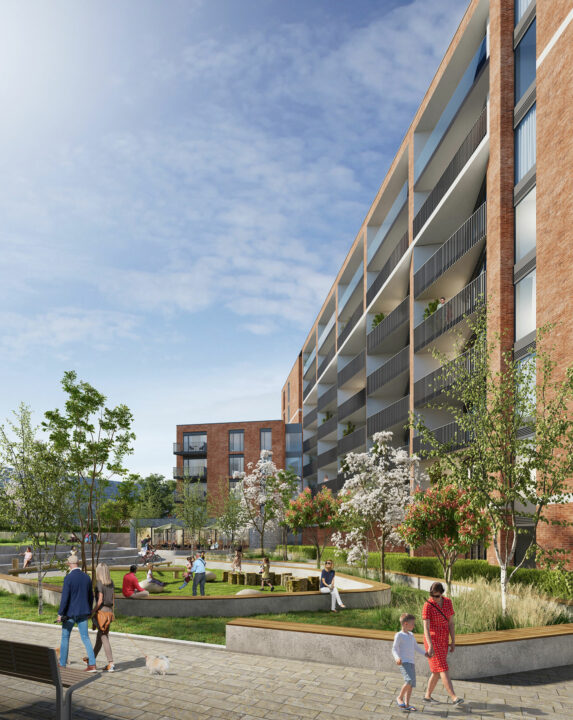 Dublin City Council's Development Plan and the SDRA 12 Framework Plan envisage that a vibrant mixed-use urban quarter will be developed across the masterplan area. The proposal is to bring a mix of studio, 1 bed, 2 bed and 3 bed apartments as well as loft style shared accommodation and town houses. These new homes will be supported with shops, cafés, creches and community facilities.  
One and two person houses are the predominant form of residential offering in this area of the City. The development of apartments will diversify the existing stock in terms of type and size of units available. With 70%* of all demand for housing in Dublin being for smaller 1-2 person homes the proposed mix of accommodation caters for a broad range of demographics including single occupants, couples, sharers, graduates, older people looking to scale down and families.  The new homes will allow more people to live in the neighbourhood and provide the size of community needed to sustain the businesses that underpin the 15-minute City concept.
To ensure flexibility is built into the scheme and to allow the retrofitting of the units to meet future rental market demands, unit type adjacencies have been carefully considered to allow for future adaptability if required e.g. two studio apartments could be converted into a 2-bed apartment.
Hines will be delivering c.1,500** new homes across the Bailey Gibson, Player Wills Phase 1 and Player Wills Phase 2 sites and we have included a breakdown of this below:
Studio: 99

 

One Bed: 790

 

Two Bed: 346

 

Three Bed: 45

 

Duplex (2 Bed): 14

 

Town House: 17

 

Shared Accommodation: 240

 
*Source: www.iip.ie/thought-leadership 
**Subject to planning 
The scheme will include homes for families, couples and individuals and allow for growing families as well as older people perhaps looking for smaller more manageable properties.   In Dublin, *70% of demographic demand is for 1 and 2 person units, but family units have also been well provided for. The availability of new apartments will also free up some of the family homes in the area currently being used by 3-4 people sharing. One of the major challenges faced by Dublin is family homes close to the city centre being used by people sharing in the absence of there being enough apartment stock.  Our proposal should start to re-balance that in the Dublin 8 area. 
*Source: www.iip.ie/thought-leadership 
The apartment layouts and mix reflect the current demands of the Dublin rental sector responding to the shortage in supply for 1-2 person households. This is reflected in the high percentage of studio and 1 bed apartments. There is still a demand for larger family sized units and this is catered for with 2-bed, large 3-bed units. To ensure flexibility is built into the scheme and to allow the retrofitting of the units to meet future rental market demands, unit type adjacencies have been carefully considered to allow for future adaptability if required e.g. two studio apartments could be converted into a 2-bed apartment.
Across the Bailey Gibson, Player Wills and Donore Project (a working title for the LDA & DCC Residential Project on the former St. Teresa's Gardens) sites a mixture of housing will be provided for and 60% of housing will be private rental and 40% of housing will be social and affordable homes
The majority of the new homes will be available to rent however a minimum of 10% of each proposed site will be social housing, in line with existing planning law, which can be either permanently sold or rented to Dublin City Council. The homes being developed on the Donore Project (a working title for the LDA & DCC Residential Project on the former St. Teresa's Gardens) site will be a mixture of social and affordable housing.
Yes. Our construction process will aim to deliver, reduce and separate waste, measure energy consumption and employ environmentally friendly procurement practices. 
The infrastructure will be designed to facilitate a flexible and long-term strategy, and the development will achieve the BREEAM international standard certification for its buildings.
It is envisaged that all homes will be powered and heated electrically and as Ireland's electricity grid is decarbonised our homes will become greener year on year. As there will be no burning of fossil fuels for heating or hot water in homes, this would mean healthy clean air for everyone, helping Ireland to meet its climate action goals.
Our aim is to establish a place with a sense of well-being. The scheme will explore the opportunities to apply principles of Community Certification schemes such as WELL and BREAAM, with the most suitable programme for this site being considered in terms of its design, development and future operation standards.
Construction of the entire scheme will take about 5 years to complete, but we would see new homes and apartments being available from as early as 2023. 
Yes. This is something we have done in Cherrywood and will also do at this development where feasible.
Construction operations will be carried out in accordance with any granted planning conditions. However, it is expected that normal working hours will be from 07:00-18:00 Monday to Friday and from 08:00 – 14:00 on Saturdays.
It may be necessary for some specific construction activities to take place outside of these times and in those cases, a specific derogation will be sought from the Planning Authority, An Bord Pleanála/Dublin City Council.
There will be a construction management plan in place which will include on-site parking for construction staff. It will also be a requirement in the tendering process that the contractor signs up to the Considerate Constructors Scheme. Heavy Goods Vehicles will only travel on routes and roads agreed with the planning authority prior to construction. Construction traffic will not be permitted to park on the public roads or within the general area outside the main site. Vehicles exiting site will use a wheel wash to reduce dust emissions.
Monitoring devices will be installed along the perimeters of the site at sensitive receptors. The monitors records daily.  These recordings will be documented in the daily site diary and compiled into a technical report which will be available to the public on request. The recordings will be evaluated/assessed against standard practice threshold limits and baseline readings. 
Measures will be implemented to prevent the spillage or deposit of clay, rubble, or other debris on the public network. These measures will include but will not be limited to a combination of a full time road sweeper, wheel wash, automated spray booth provision at each site entrance and good waste management practice employment by the contractor.
The volume of Heavy Goods Vehicles (HGVs) will be staggered with the most intensive period during the first 8 months. There will be circa. 20-30 trucks per day during demolition and excavation. Otherwise, HGV deliveries, off peak will be at the rate of approximately 10-20 per day. The site is within the DCC 5-axle ban area, so only the most essential larger HGV's will be permitted to access the site.
The streetscape and landscaping in the development has been designed to create a public realm that accommodates different types of transport but with a focus on cycling and pedestrians. This facilitates the creation of public open spaces in a safe and attractive environment. 
In line with this, the following external improvements will be provided: 
Footpaths and road widths will be widened and upgraded on Rehoboth Place.
A new pedestrian crossing will be provided on the South Circular Road.
Replacement and realignment of footpaths along Donore Avenue. Including, the provision of a signal-controlled crossing to facilitate pedestrians crossing to the new municipal playing pitch.

 

Additional cycle parking will be provided along Donore Avenue to facilitate visitors to the municipal playing pitch.

 
The plan recognises the need for greater connectivity and permeability in Dublin 8 and promotes the removal of existing barriers and blockages to movement. Neighbouring residents and future occupants will be able to move freely through and within the site's tree lined streets. This will allow existing and new residents to take full advantage of the attractions and services offered within the plans
The network of roads has been designed to accommodate safer and more cycle and pedestrian friendly entrances/exits to and from the site. Vehicles will be able to access the roads, however the entire internal road network will be traffic calmed through narrow carriageways, surface treatments, visual pinch points and deflections, low kerbs, frequent raised shared surface areas and/or pedestrian crossings. As part of the development scheme, Dublin City Council will take charge of the roads and will be responsible for the management of them. While there are currently no plans to include bollards in these areas, the site will be monitored post opening as part of the Mobility Management Plan and, if necessary, permeability through the site would be filtered for vehicular traffic. This would be in the form of retractable bollards at the junction at the southern end of the sports field which would allow access for service vehicles but not car traffic. This point will be discussed further with DCC and agreed before implementation.
Following the submission of the planning application for the Bailey Gibson site (May 2020), and the Player Wills site (December 2020) we hope to submit a third planning application for the remaining part of the site in Q2 2021.